Become a certified channel partner to scale your services to new and existing customers with remote monitoring revenue.
Utilize our hardware and software for a fully customized remote monitoring solution that you can offer your customers.
Our hardware and software solutions provide us the opportunity to collaborate and help expand your current offerings.
Service & Distributor Partner
Are you a service provider or distributor looking for a more efficient way to perform routine maintenance and service for your customers? Look no further! By partnering with us, you are able to: 
Scale service revenue

Support even more customers in less time

Remotely monitor your customer's equipment

Service equipment based on data 

Offer proactive maintenance checks instead of reactive

Help customers improve equipment efficiency and reduce energy
How does it work?
Your customers are being asked to do more with less, remote monitoring solves those challenges. As a channel partner, we help you scale your service offerings to your customers. Once you sell a remote monitoring service contract to a customer, simply install our sensors on your customer's equipment and in minutes, you and your customers will have data from equipment on our Simplicity Cloud™ platform. From this platform, you can view live data, start to understand their performance behavior, perform trend analysis, predict failures, and catch leading indicators of failures before they become problematic.
Customers love Simplicity IoT!
One benefit from the service side is the ability to check equipment data before coming to site. You and your customers can look at the data to understand what is going on and work to diagnose a problem. Once you have an idea of what is going on, you can solve the issues on the phone or go to your customer prepared to fix the problem. This allows you to save time, be more knowledgeable, and add value to your customers.
Ready to take your service to the next level? Click here to send an email and a specialist will be in touch.
Contact Us
Looking for a fully custom solution for your business? We can white label our hardware and software so it matches your brand. We can customize the following:
Custom branding on software to include brand colors & logo – your own app!

Custom branding on hardware to include brand colors

Any data points can be added to our cloud to help monitor your specific equipment needs
How do I know if I need a custom branded solution?
If you want hardware & software components in your own branding or want to get started with an IoT project from scratch for your company. A typical customer includes OEM's, as they are selling our IoT solution with their equipment and may desire personalized branding. We can also have a conversation regarding monitoring and collecting data points that we are currently not offering – don't be afraid to ask. 
Hardware or Software Partner
Do you sell sensors, but have no connection to a Cloud? Or, do you have a Cloud platform, but no sensors to go with it? If you fall into either category, consider partnering with us.
Bring your own cloud!
If you need our Simplicity sensors to connect to your Cloud, we have our sensors configured to send the data to our gateway, and then it gets sent directly to your open API. 
Bring your own sensors or data points!
If you need our Simplicity Cloud to connect with your hardware, we will redirect the data coming from your preferred system to our Simplicity Cloud platform. We can do this by directing them to our Simplicity Edge™ cellular gateway or directly to our cloud API.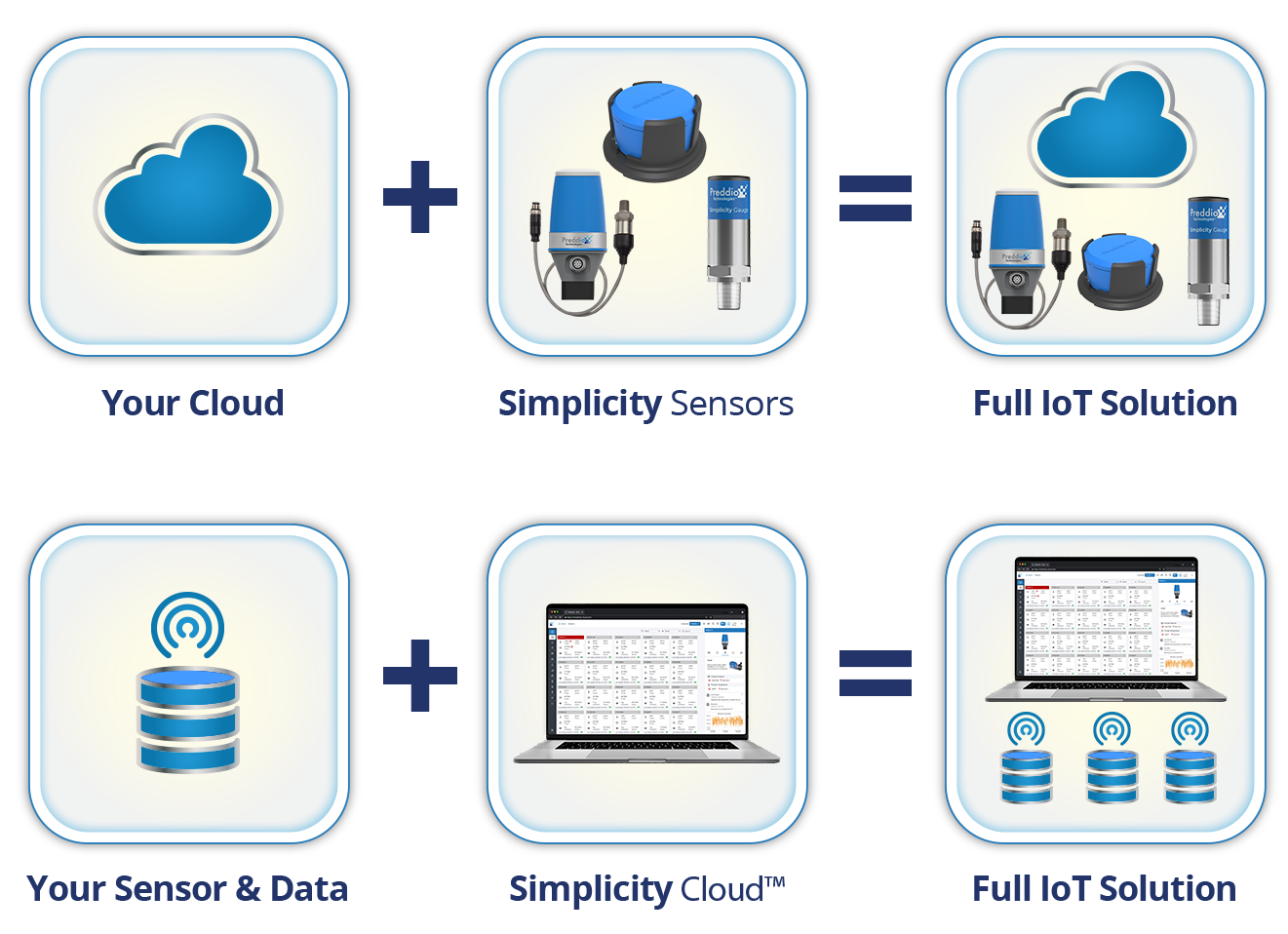 Other options available. Call us at 978-655-7962
The benefits?
By partnering with us, you are offering your customers the missing piece to a full solution. Not only does it provide an additional revenue stream for you, but your customers will be happier being able to get everything they need in one place. It's a win-win for everyone.